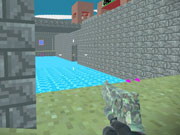 Pixel Combat Fortress
---
Description :
Pixel battle fortress multiplayer game, in which you can simulate real pixel wars with real players around the world. The game simulates realistic tanks and cool effects on bullets and rocket explosions. There is also a helicopter, in which you can fly with your friends on it. These cars can speed up and drift on the map and will get some XP to buy vehicles on the map, or by gaining XP you can quickly rank and unlock some powerful vehicles. The gameplay is highly free, and you need to find interesting and addictive things here. Have fun!
Keywords :
Tank, Sports, Pixel, Multiplayer, Kids, Helicopter, Gun, Fighting, Driving, Boy, Action,
Control :
Use WASD to drive a tank, helicopter, cars, and character. Use Mouse to look around, shooting, change gun on the scroll.
Author :
bestcrazygames.com
---
Comments
Please login or register to post a comment