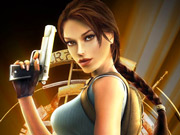 Lara Croft Relic Run Online
---
Description :
Lara found the suicide note left by her father. The suicide note recorded the treasure place that her father discovered before his death. Lara thought this was very important. She decided to go to this place to find the treasure by herself, but it was a very dangerous place, and it was still In the depths of the sea, Lara made a lot of preparations for this. She strengthened her physical exercises, learned fighting skills, and shooting methods, but this was not enough to deal with the dangers of the sea. Come and help Lara explore the mysterious underwater world and find the treasure left by her father!
Keywords :
Running, Obstacle, Kids, Jumping, HTML5, Fighting, Boy, Avoid, Animal, Android, Adventure, Launch
Control :
Use arrow keys to control the character move and click to fire.
Author :
nosite.com
---
Comments
Please login or register to post a comment