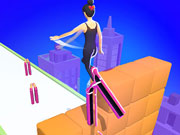 High Heels Online
---
Description :
High Heels Online is fun, this runway is epic, this game is for baddies! The taller your heels are, the easier it will be to escape from the walls. A different obstacle awaits you at each level! There are rails on the roof where you have to spread your legs and slide, walls to jump, a stick to balance and a huge podium waiting for you at the end of the road. And most importantly, you can find heels with very different models and colors to suit your style!
Keywords :
Skill, Platform, Obstacle, Kids, Funny, Collecting, Bricks, Boy, Block, Avoid, Arcade, Android,
Control :
Drag the mouse to play.
Author :
yad.com
---
Comments
Please login or register to post a comment